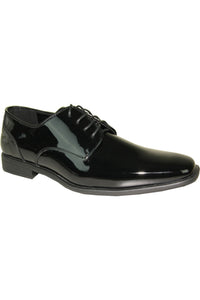 The Matteo is a fashionable Oxford Style shoe. The pointy square toed lace up shoe has a premium interior that is fully lined with material to keep the feet cool and dry when wearing them. The foot bed lends extra support for consistent comfort and ease. The Patent Black color coordinates well with your favorite tux giving of a classy and stylish look.
Color: Black
Material: Patent PVC
Style: Lace Up
Eyelets: 4
Fit & Sizes: 6.5 to 20 (Regular Width [D] or Wide Width [EE])
Condition: Brand new with original tags & packaging

STYLING TIP: Small details should never be overlooked when wearing a suit or tux. Don't forget to order a new pair (or two) of quality dress socks. Perfect for your upcoming event, but you can also wear them afterwards either at work or a night out on the town!